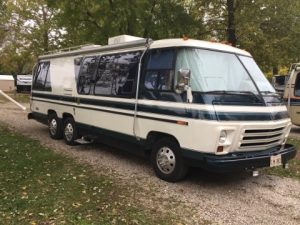 Our club is a diverse group of people with a common interest in GMC motorhomes!
These class A motorcoaches were built by GMC from 1973 through 1978 and have the prefix of TZE in their VIN.  They were ahead of their time as evidenced by how many are still on the road over 40 years later!

Our official region is a radius of 200 miles from the city of Chicago, IL. – so we cover the Northern half of Illinois, parts of Wisconsin, Iowa, Indiana, and Michigan. If you live outside our focus area but wish to join our club and attend our rallies you are more than welcome!
We are a chapter of FMCA and membership in FMCA is a prerequisite to becoming a GMC Six Wheeler member.  You are invited to download an application .  Simply click on the link or visit the 'Become a member' page in the 'About' menu for more information or contact our membership chairperson. Our dues are only $20 per year.  
Our chapter generally holds one rally per month from May through October each year.  Dates, length and locations of rally vary.  We do not require you attend in a vintage GMC motorhome, only that you share a mutual interest…or obsession…with them!  We  invite you to visit one of our upcoming rallies and get to know us.
Our rallies vary from 'do nothing', for a weekend of relaxation, to various scheduled activities arranged by the host to visit nearby points of interest and experience local cuisine.  You are welcome to do as much or as little as you want!  We do have a $10 per person rally fee to cover morning pastries and a main dish for one evening pot luck.  Check out our upcoming rally section for more information.
Mail contact
CONTACT ADDRESS
GMC 6 Wheelers
211 Concord Dr
Normal, IL 61761